AN INNOVATIVE 2-IN-1 WEBCAM
Size and resolution play a part
---
With an innovative design that is both lightweight and portable, making it easy to carry and use with high-quality communication, show yourself and share documents and other materials during video conference calls or remote teaching easily.
---
STAY PROTECTED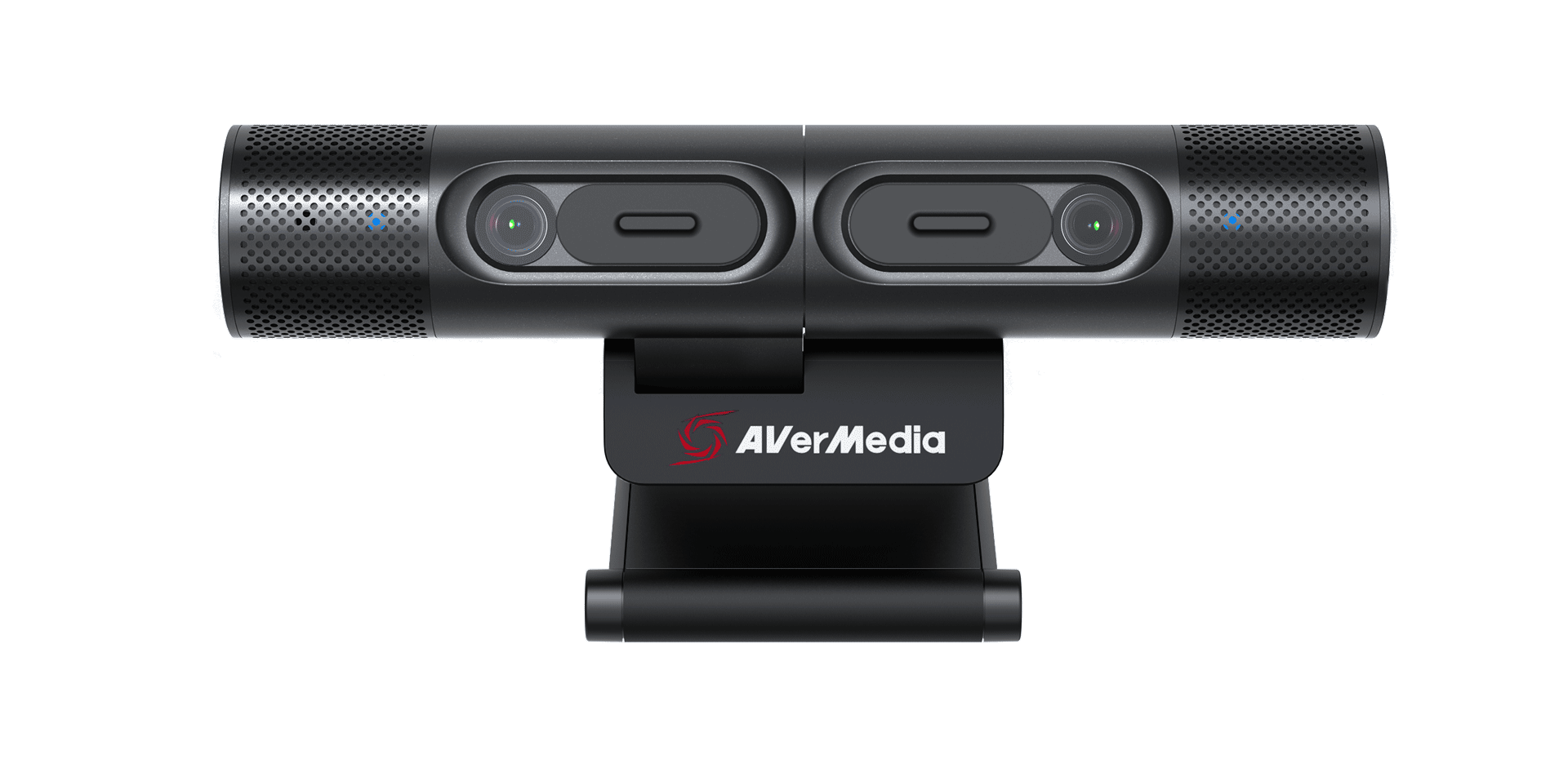 ---
The DualCam PW313D has built-in privacy shutters (webcam cover) to prevent unintentional capture and keep yourself safe.
---
POWERFUL CAMENGINE 4
---
With CamEngine 4, our free video and audio optimization software, you can access all of the webcam's features such as video rotation, zoom, picture-in-picture, keystone correction and annotation tools to enhance any lesson or video call.
---
STRONGLY RECOMMENDED TO USE WITH CAMENGINE 4
Capture The Best Image
---
CamEngine features include flip-mirror, rotation, zoom and annotation tools toenhance and make your video calls more engaging.
Look Your Best in Any Environment
---
Adjust video settings such as brightness, contrast, sharpness, and more, to get the most desirable appearance in any environment.
Keep on Focus Anytime
---
In the menu, focus can be adjusted with the Manual, Auto or Fixed mode.
Manual Focus: Adjust the focus to how you want
Auto Focus: Provides clear video at all times
Fixed Focus: Keep yourself or an object at a certain distance focused at all times without any adjustments
Convenient Hotkey Function
---
You can customize keyboard shortcuts by assigning them to start/stop a command of switching Virtual Camera, AI Noise Reduction, Image Filter, Image Effect, Keystone Correction and Auto Focus.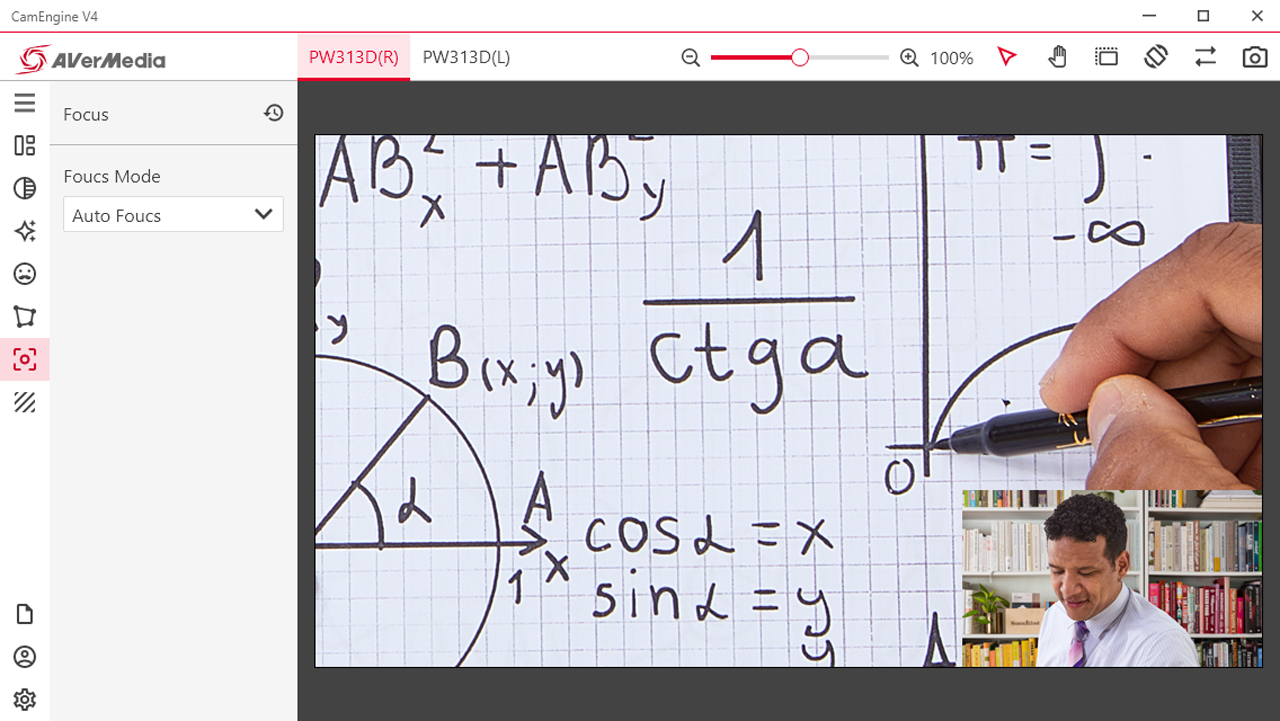 Picture-in-Picture (PiP)
Best for Online Classes
Allows teachers to stay visually present to students on a small window while displaying their online lesson. Students can also use the dualcam to participate and show their homework clearly so teacher can provide feedback more easily.
Keystone Correction
Provide a Table Top View
Don't worry about the distortion; just keep your camera pointed at the document, and CamEngine will adjust it to make it look like the webcam is directly above.
*Only for the Right Camera
ENRICH YOUR ONLINE TEACHING / MEETINGS
---
We offer a way to add more visuals and information to your teaching or meeting. For example, easily show your handwritten work, graphs, drawings, or a demonstration in a video conference or lecture.
---
Online Classes
Virtual Art Classes
Product Unboxing
Technical Specifications

Model Name: PW313D
Microphone: Dual mono omnidirectional microphone
Focus: Autofocus

Left Camera
Image Sensor: 2MP CMOS Sensor
Max Resolution: 1920 x 1080@30fps
Field of View: 71°(D), 63°(H), 38°(V)
Right Camera
Image Sensor: 5MP CMOS Sensor
Max Resolution: 2592 x 1944@30 fps
Field of View: 76°(D), 67°(H), 52°(V)
Made in Taiwan

Operating System Requirements

Windows: Windows 7, Windows 10 or later
Mac: macOS 10.15, 11 or later (including M1)

Hardware System Requirements

CPU: Intel® Core™ 2 Duo 2.7 GHz or better
RAM: 2GB RAM or more

CamEngine System Requirements

WINDOWS

Desktop

| | | |
| --- | --- | --- |
| Usage | CPU | GPU |
| Image Adjustment, Picture in Picture | Intel® Core™ i5 6th or better | Intel® UHD integrated graphics or better |
| Skin Filter, AR Effect, AI Framing | Intel® Core™ i5 6th or better | NVIDIA® GeForce® GTX 1060 or better |
| Share screen by Teams | Intel® Core™ i5 6th or better | NVIDIA® GeForce® GTX 1060 or better |
| NVIDIA® Virtual Background | Intel® Core™ i5 8th or better | NVIDIA® GeForce RTX 20 or 30 Series, or NVIDIA® RTX professional GPUs, or NVIDIA® Quadro RTX |

RAM: 8 GB or more

Laptop

Usage
CPU
GPU
Image Adjustment,
Picture in Picture
Intel® Core™ i5 10th 1.6GHz 2 core or better
Intel® UHD integrated graphics or better
Skin Filter,
AR Effect,
AI Framing
Intel® Core™ i7 7th 2.8GH 4 core or better
NVIDIA® GeForce® GTX 1050 Ti or better
Share screen by Teams
Intel® Core™ i7 7th 2.8GH 4 core or better
NVIDIA® GeForce® GTX 1050 Ti or better
NVIDIA® Virtual Background
Intel® Core™ i5 8th 3GH 6 core or better
NVIDIA® GeForce RTX 20 or 30 Series, or NVIDIA® RTX professional GPUs, or NVIDIA® Quadro RTX

RAM: 8 GB or more

MAC

OS: macOS 10.15, 11 Display: 1280 x 800 or higher resolution

iMac 2017
CPU
3.8GHz quad‑core Intel Core i5 or better
GPU
AMD Radeon™ Pro 580 or better

RAM: 8 GB or more

Macbook Pro 2019
CPU
2.6GHz 6‑core Intel Core i7 or better
GPU
AMD Radeon™ Pro 5300M or better

RAM: 16 GB or more
What's in the box

PW313D
Tripod
Quick Guide
USB-A to USB-C cable (2 m/6.56 ft.)