More info
Offering exceptional speed, coverage, and capacity, the Linksys Velop AX Whole Home WiFi 6 System is the next generation of WiFi. This WiFi router/extender combines Velop's Intelligent Mesh technology with WiFi 6 to deliver true gigabit WiFi speeds-up to 5.3 Gbps-to every corner of your home, including outdoor areas. Capable of sending and receiving multiple streams of data simultaneously, WiFi 6 has four times the capacity of WiFi 5 technology. The Linksys Velop system can handle as many as 50 devices, so laptops, televisions, smart-home systems, and more can all operate simultaneously with ease. Featuring BSS technology, this WiFi router/extender minimizes congestion by eliminating interference from nearby wireless networks in order to deliver a strong, clear wireless signal to your home. It is part of Velop's modular system, which means increasing your coverage is as simple as adding another node. And with the Linksys App, setting up your system is fast and easy, so you can enjoy the next evolution of WiFi in a matter of minutes.
---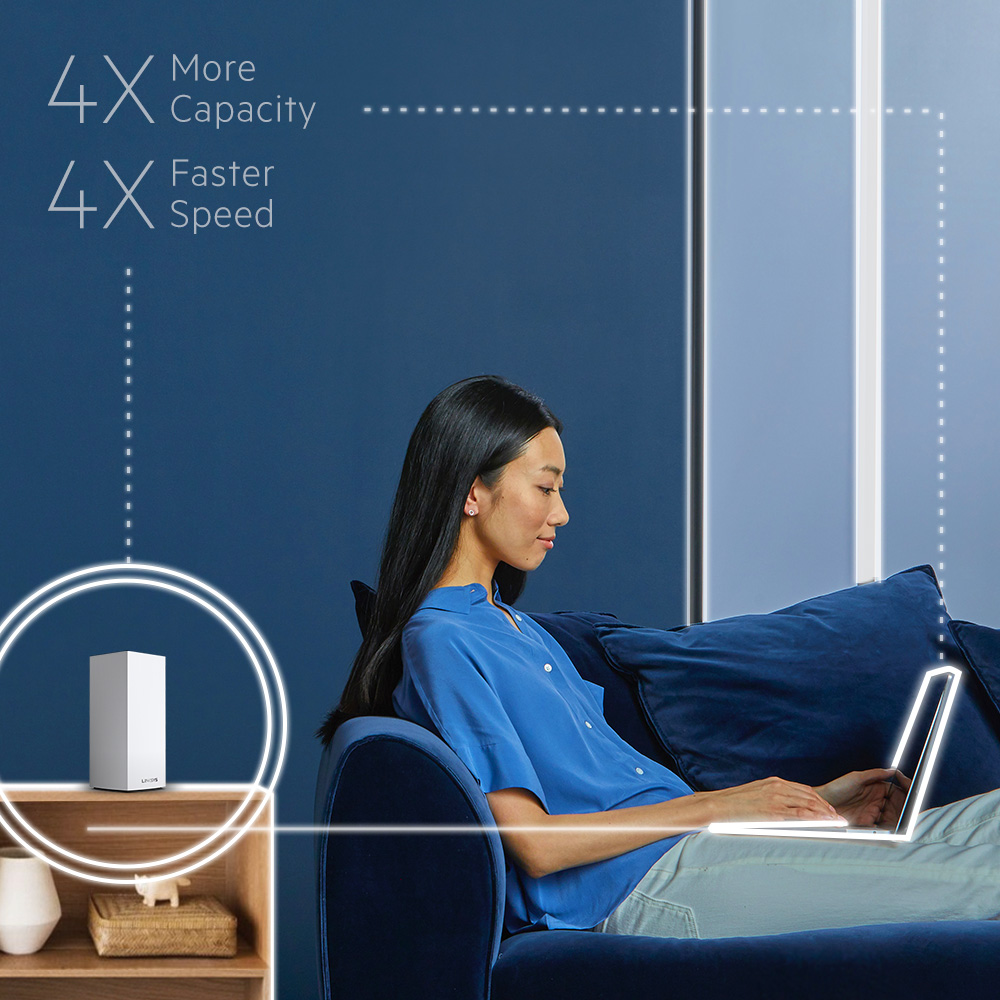 Makes Your Current WiFi Feel Like Dial-Up
WiFi 6 technology delivers true gigabit speeds throughout your entire home, with up to 3 Gbps and 6-stream connectivity. Next-generation OFDMA (orthogonal frequency-division multiple access) increases efficiency in high-density scenarios, delivering high-speed WiFi to multiple devices simultaneously.
Increased Coverage Range
Velop's Intelligent Mesh Technology, combined with WiFi 6, delivers gigabit WiFi speeds to every corner of your home, including outdoor areas.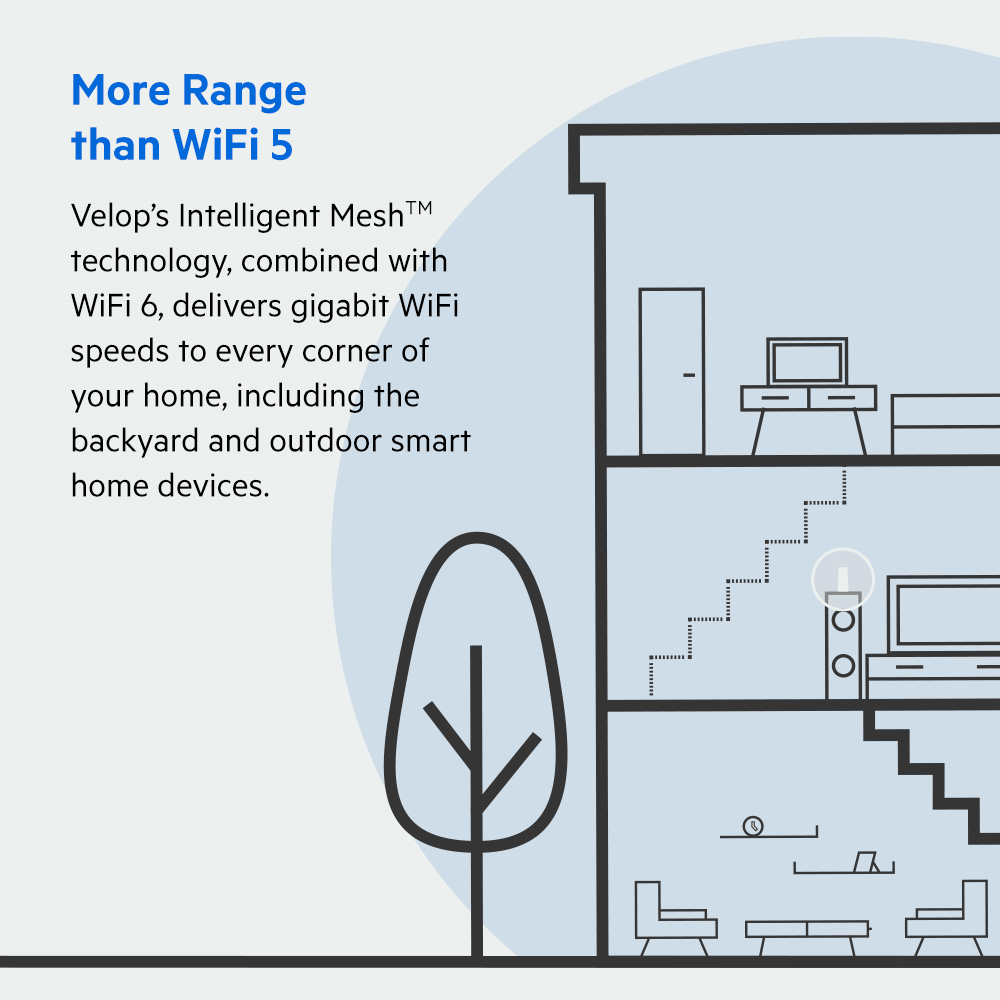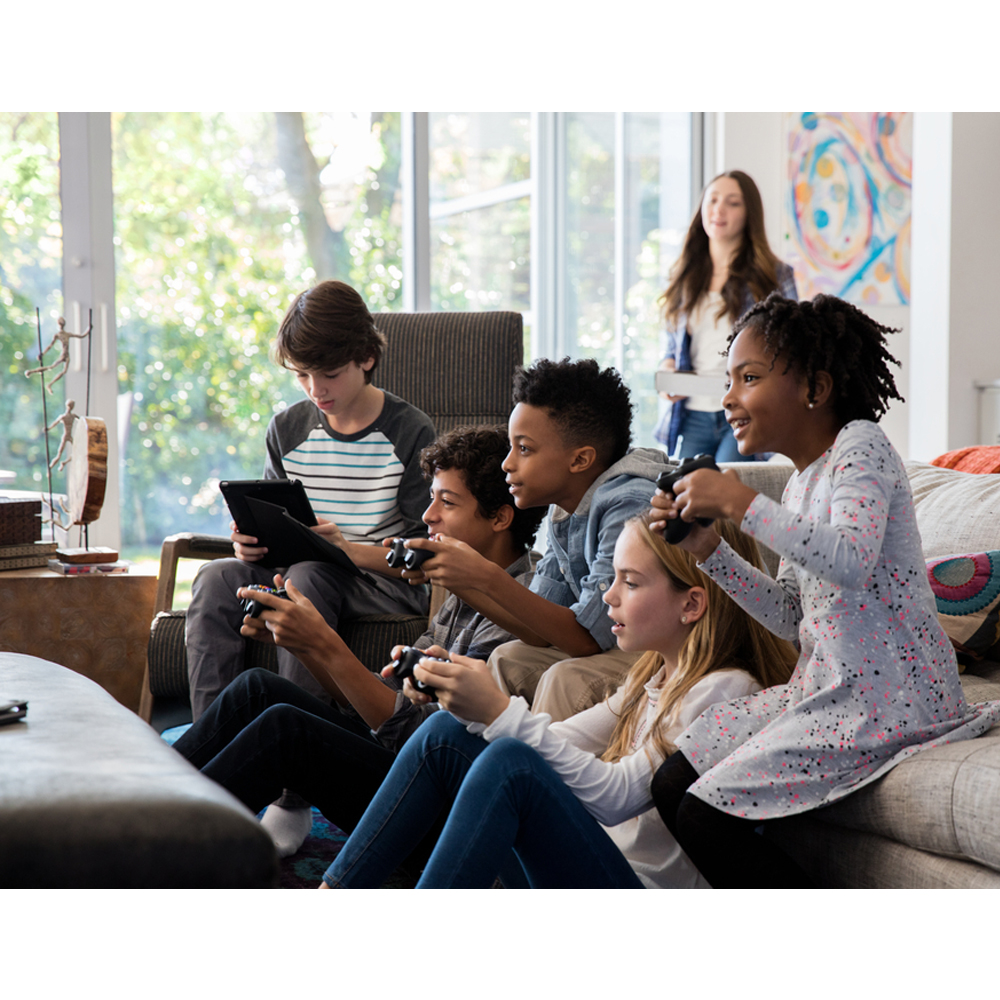 Supports Even the Biggest WiFi Hoarders
With 4X the capacity of WiFi 5, WiFi 6 provides enough bandwidth for as many as 30 devices. And MU-MIMO (Multi-User Multiple-Input Multiple-Output) technology allows downloads and uploads simultaneously.
---
Eliminates Interference from Nearby Networks
WiFi 6 BSS (Basic Service Set) Coloring technology eliminates interference from nearby WiFi networks, so you always have a strong, clear signal for all your devices.
Advanced Security
Safeguard your network with wireless WPA3 (WiFi Protected Access 3) encryption and an SPI (stateful packet inspection) firewall.
USB and Ethernet Ports Offer Versatile Connectivity
Equipped with three Gigabit-Ethernet ports, the MX4050 supports wired connections up to 10x faster than standard Ethernet. And thanks to the ultra-fast USB 3.0 port, you can easily connect shared storage devices.
---
Backed By 3-Year Limited Warranty and Tech Support
Velop is backed by both a three-year warranty and a three-year tech support guarantee. This premium level of support also includes a dedicated phone support line.
---
LINKSYS SMART Wi-Fi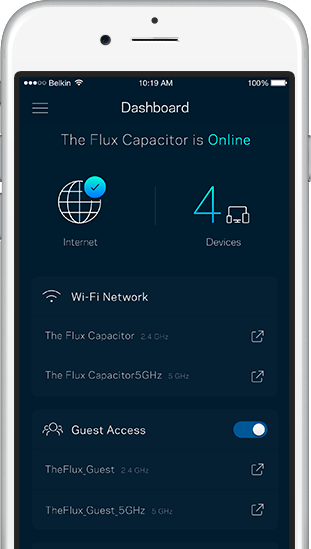 ---
CUSTOMIZE AND MANAGE YOUR HOME WiFi ANYTIME, ANYWHERE
With the Linksys App, you can closely monitor and manage your home WiFi remotely using a smartphone or tablet.
Parental Controls: Ensure a safe Internet experience for your kids--even when you're away from home. Reduce online distractions during homework, family or dinnertime. Restrict access to inappropriate or distracting content, control usage, and block specific devices from accessing the Internet.
Guest Access: Generate a separate, password-protected Wi-Fi network for up to 50 guests and easily share the password via text.
Device Prioritization: Prioritize devices that need the most speed.
---
A WiFi Mesh Network in Minutes
Velop creates an efficient mesh WiFi network with all Internet-service-provider-supplied equipment and speeds. The simple, app-based setup will guide you through the process in minutes.